How to Import Camera Files to a Computer - Windows 10
by
GoPro
‎09-30-2019
05:34 PM
- edited
‎01-28-2021
09:55 AM
How to do it?
There are a few different ways to get your photos and videos from the camera to your computer.
Method #1 - Use Quik for desktop
HEADS UP: This feature is currently supported only on the HERO7 Black or earlier cameras. Newer cameras may or may not work as expected when connected via USB cable.

Please refer to this link on How to Import Using Quik for desktop​.

If your camera is not being recognized in Quik for desktop, please refer to this article.
Method #2 - Use an SD Adapter
If you have an SD adapter for your MicroSD card, you can insert the MicroSD card into the adapter and insert the adapter into your computer.
Press Windows Key+E to open File Explorer. Your SD card will be on the left sidebar under the "This PC" section.
Double-click on your SD card, and you should see two folders: DCIM and MISC.
Now double-click on the DCIM folder. In that, you'll see a folder named 100GOPRO. (Note - if you took more than 9999 pictures or videos, you'll see 101GOPRO, 102GOPRO, 103GOPRO, etc. folders).
PRO-TIP: Using an SD card adapter is the fastest way to offload your media onto your computer.
Method #3 - Automatic with Auto Launch Options
When connecting the camera to the computer you may be given an option to choose what happens when you connect the camera.
If you do not see this prompt, move on to Method #4.
If you want to set it up so that Auto Launch does occur, check out this article.
You can select:
Import photos and videos with the Photos app
Open device to view files with File Explorer
Take no action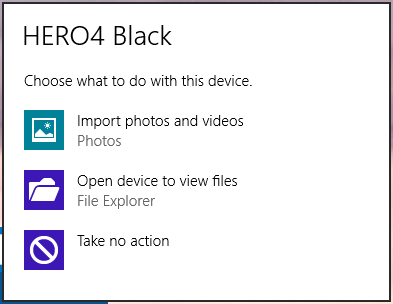 If you choose to Import photos and videos, the Photos app will launch and give you the option to import your files.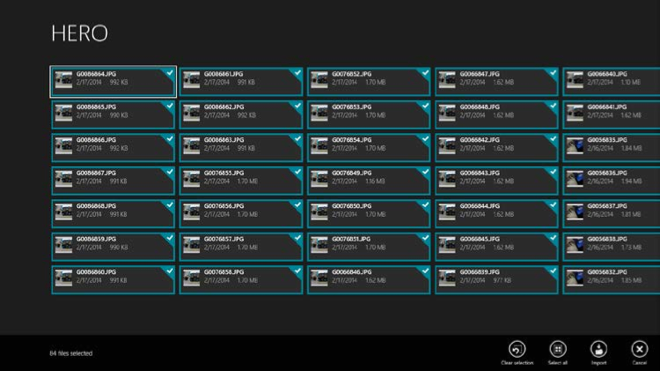 Method #4 - Manually with File Explorer
If you choose Open device to view files, File Explorer will launch. Double-click on your camera.
Double-click on GoPro MTP Client Disc Volume.
Open DCIM to access your GoPro folder. You can copy/paste your videos onto your computer's hard drive from here.
​


If you're having trouble with you camera being recognize with your computer, please refer to these articles:

Camera is not Recognized when Plugged into a Computer USB Port
Camera is Not Recognized on Quik for Desktop - Windows


Have any more questions or concerns? Hit us up HERE and we will be happy to help.